The Goldilocks Theory in Choosing a Drug and Alcohol Treatment Facility.
One of the first things many potential guests ask us when they first call Gulf Breeze Recovery is, "How many people do you treat at a time?"
Goldilocks says this one is too big!
Anyone who has been through a traditional drug treatment facility before knows that often, it is done in a hospital-like setting, with hundreds of patients at a time. It can feel very clinical and anonymous, and with a huge facility it can be hard to get to know other guests or staff personally. The number one complaint we hear about such large treatment facilities is that they feel like they are "just another number" and that no one there is actually invested in them as a person. Large treatment hospitals can feel cold and institutional, and clients have confessed leaving such facilities no better than they came into them. In such a crucial time in a person's life, feeling compassion and support from those around them can be pivotal to their recovery!
Goldilocks says this one is too small!
As the opposite to these institutions, a few treatment facilities have been popping up that are run completely from a private home, and they tout their cozy environment as being more therapeutic because they are "home-like". We've had a few guests who have been to such rehabs prior to coming to us and they say some of the biggest issues are that, "there's nowhere to get away from the other guests", "if you don't get along with someone you are literally stuck with them, and it affected my treatment completely to be forced to share such a small space with someone so negative", and "imagine having to go through detox and emotional therapy sessions with the uncle that you can't stand—that's what it's like." While the answer to large, hospital-like environments may seem like a private home, often it can feel cramped, claustrophobic and be completely detrimental to a person's recovery.
Goldilocks says this one is just right!
So what's the answer? We at Gulf Breeze Recovery have discovered that the answer to the "does size matter" question lies somewhere in the middle. Our facility holds 26 residential treatment beds and 5 medical detox beds in a separate wing, which allows guests to detox comfortably, and most of all, privately in the comfort of their own room with a nurse just steps away.
Gulf Breeze Recovery is large enough to provide professional medical and counseling services, but small enough to be friendly and caring to all of our guests.
If you enjoy socializing among other guests and getting to know others, there is plenty of opportunities to do that along our private beach area overlooking the water, playing a game of ping pong, pool, or even corn-hole out on our lawn during free time. If you prefer some quiet time and space to reflect, there are plenty of cozy areas for reading, reflection and personal conversations away from the general group. Our facility was specifically designed for our guest's comfort and safety; it was never a house that guests have to cram into.
Our kitchen is stocked with commercial grade equipment and two full-time chefs who continually earn rave reviews with their meals that are "just like mom would make if mom was a 5-star chef!" Our medical staff has all of the equipment on hand to provide a full medical detox right on site, including a Class II in-stock floor pharmacy, so we have all of the necessary attributes that an institution or hospital will have. We have enough staff to keep our facility neat, clean and comfortable, but not so many that they don't personally know your name and care about you as an individual. As one of our recent guests described, "I feel like Goldilocks when she finally found the one that was just right!"
What's New at Gulf Breeze Recovery?
More Than A Waterfront Location. When asked about the latest additions such as a pool with waterfront view, private fishing pier, private beach adjoining the pool and pier Barnett, CEO of Gulf Breeze Recovery said: "We're committed to offering transparency to those interested in evaluating our facility for themselves or their loved ones. People wishing to find the right place want to know that what they see is what they're going to get."
Want to know if Gulf Breeze Recovery is the right fit for you?
When you decide that Gulf Breeze Recovery is the right choice for you, contact us at Gulf Breeze Recovery or call: 833.551.2356 to speak to an addiction expert to learn more about our program that has helped so many people overcome their addiction and embrace life.
We help people not just to survive, but to THRIVE!
About Gulf Breeze Recovery:
Gulf Breeze Recovery, unlike other treatment centers in Florida, is a non 12 step holistic drug and alcohol rehab that is changing the future of addiction treatment with their THRIVE® (Total Health Recovery) program focused on overcoming chronic relapse.
Gulf Breeze Recovery's THRIVE® program is a non 12-step approach designed for those who are looking for a drug and alcohol treatment program to produce a different and positive result.
This non-12 step program allows you to drive beyond your addictions and promotes a new outlook on life.
We are licensed by the Florida Department of Children and Families, and our last audit scored 99.7! Also, we are gold certified by the Joint Commission.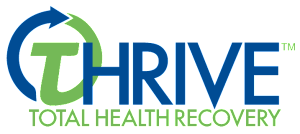 End Chronic Relapse and Start a New Life!
At Gulf Breeze Recovery we don't want you to have just a great recovery, we want you to have a great life!