Methamphetamine never received the notoriety or news attention that opioids did
– at least not until recently.
Now headlines from medical journals, government agencies, popular magazines to radio stations are screaming warnings about the dangers and increases in methamphetamine use.
The Journal of American Medicine (JAMA) reported in an October 2018 article titled "Evaluation of Amphetamine-Related Hospitalizations and Associated Clinical Outcomes and Costs in the United States" that amphetamine use is now the fourth most common reason to seek drug treatment in the United States, after alcohol, opioid, and marijuana use.
Also, in an October 2018 article, Rolling Stones Magazine headlines read, "Meth is Making a Comeback Across America From Virginia to Alaska, methamphetamine use is surging – and it's hitting in many places still reeling from the opioid crisis."
In November 2018, Kaiser Health News headline warned, "Overshadowed by Opioids, Meth Is Back and Hospitalizations Surge".  The federal government estimates that more than 10,000 people died of meth-related drug overdoses last year. Deaths from meth overdose generally result from multiple organ failure or heart attacks and strokes, caused by extraordinary pulse rates and skyrocketing blood pressure.
A MedicalXpress article's headline in December 2018 cautioned "Meth Playing Bigger Role in US Drug Overdose Crisis", going on to quote the Centers for Disease Control and Prevention's report that the number of fatal overdoses involving meth more than tripled between 2011 and 2016, and that the percentage of overdose deaths involving meth grew from less than 5 percent to nearly 11 percent.
April 2019, the National Institute on Drug Abuse (NIDA) updated their methamphetamine page with an article, "What Treatments Are Effective for People Who Misuse Methamphetamine?"  Their dire warning is that although medications have proven effective in treating some substance use disorders, there are currently no medications that counteract the specific effects of methamphetamine. The most effective treatments for methamphetamine addiction at this point are behavioral therapies, such as cognitive-behavioral and contingency management interventions.
May 1, 2019, National Public Radio (NPR) on their Morning Edition broadcast titled "As Meth Use Surges, First Responders Struggle to Help Those in Crisis."  The broadcast informs that since 2011, emergency room visits related to meth in San Francisco have jumped 600% to 1,965 visits in 2016, the last year for which ER data is available. Admissions to the hospital are up 400% to 193. And at San Francisco General Hospital, of 7,000 annual psychiatric emergency visits last year, 47% were people who were not necessarily mentally ill — they were high on meth.
"They can look so similar to someone that's experiencing chronic schizophrenia," says Dr. Anton Nigusse Bland, medical director of psychiatric emergency services at Zuckerberg San Francisco General Hospital. "It's almost indistinguishable in that moment. Someone who has methamphetamine-induced psychosis," he explains, "are often paranoid, they're thinking someone might be trying to harm them. Their perceptions are all off."
And finally, a second NIDA article from April 2019, titled "What Treatments Are Under Development for Methamphetamine Use and Addiction" concludes that there are currently no medications that counteract the specific effects of methamphetamine or that prolong abstinence from and reduce the use of methamphetamine by an individual addicted to the drug. NIDA has made research on the development of medications to treat addiction to stimulants and other drugs a priority, and NIDA-funded researchers are investigating a number of pharmacological approaches for treating methamphetamine use disorder.
As these headlines illustrate how methamphetamine is wreaking havoc and destroying lives across the country.
Use is increasing at frightening rates and leaving behind a trail of addiction, serious health issues both mental and physical, and deaths.
Professional substance abuse treatment by those who understand methamphetamine addiction
Quality professional substance abuse treatment by those who understand methamphetamine addiction is the best option, and it will need to address the variety of mental and physical health issues that those addicted to methamphetamine have developed.
If you or someone you care about, is addicted to methamphetamine or has an ongoing history of substance use and/or relapse, contact us at Gulf Breeze Recovery or call: 833.551.2356 to speak to an addiction expert to learn more about our program that has helped so many people overcome their addiction and embrace life.
We help people not just to survive, but to THRIVE!
About Gulf Breeze Recovery:
Gulf Breeze Recovery, unlike other treatment centers in Florida, is a non 12 step holistic drug and alcohol rehab that is changing the future of addiction treatment with their THRIVE® (Total Health Recovery) program focused on overcoming chronic relapse.
Gulf Breeze Recovery's THRIVE® program is a non 12-step approach designed for those who are looking for a drug and alcohol treatment program to produce a different and positive result.
This non-12 step program allows you to drive beyond your addictions and promotes a new outlook on life.
We are licensed by the Florida Department of Children and Families, and our last audit scored 99.7! Also, we are gold certified by the Joint Commission.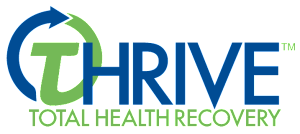 End Chronic Relapse and Start a New Life!
At Gulf Breeze Recovery we don't want you to have just a great recovery, we want you to have a great life!